XT range - Aluminium & PVC-u Hardnose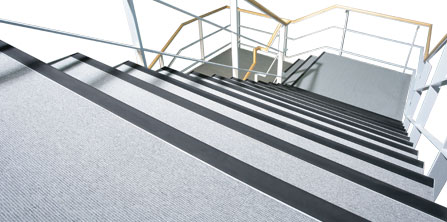 The Gradus XT range of stair edgings (stair nosings) offers the ultimate solution in reducing slips, trips and falls on stairs and has been developed in line with the latest legislation and guidelines such as Approved Document M (ADM) of The Building Regulations 2010, BS 8300-2:2018 and research from BRE (Building Research Establishment).

Download the Stair Edgings & Floor Trims brochure click here.
Request a call back > click here

Watch our Create Safe Stairs with XT video which showcases the features & benefits of the Gradus XT range of stair edgings and contains best practice guidelines.

Gradus BIM objects provide up-to-date, accurate data about products providing you with the relevant technical information to build into your projects. Download our BIM objects Click here
The Gradus XT range is available with either aluminium or PVC-u channels and a choice of slip-resistant inserts that extend around the leading edge of the stair edging to ensure that foot contact is always made with the slip-resistant element of the stair edging.
Slip-resistant inserts are available for both interior dry and interior wet conditions (environments where there is a risk of the stair edging becoming wet from either spillage or tracked in moisture e.g. steps close to entrances, near canteens or food/vending areas).
Not sure which Stair Edging to specify or install? Unsure about the gauge you require or insert type? Need help with colour selection? Screw down or Gradus Grip? We have a comprehensive but easy to understand guide, here!
Looking to buy, today? Click here to find your nearest stockist!