XT Stair Edgings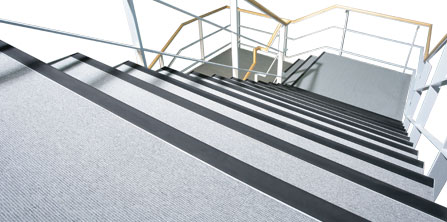 The Gradus XT range of stair edgings (stair nosings) offers the ultimate solution in reducing slips, trips and falls on stairs and has been developed in line with the latest legislation and guidelines such as Approved Document M (ADM) of The Building Regulations 2010, BS 8300-2:2018 and research from BRE (Building Research Establishment).
The Gradus XT range is available with either aluminium or PVC-u channels and a choice of slip-resistant inserts that extend around the leading edge of the stair edging to ensure that foot contact is always made with the slip-resistant element of the stair edging.
Slip-resistant inserts are available for both interior dry and interior wet conditions (environments where there is a risk of the stair edging becoming wet from either spillage or tracked in moisture e.g. steps close to entrances, near canteens or food/vending areas).