Matwell Frames & Ramping Frames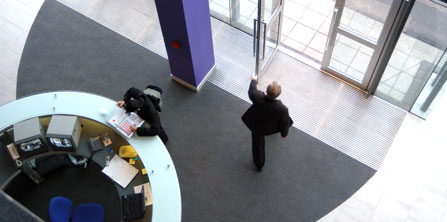 Gradus matwell frames are available in a choice of sizes to accommodate different gauges of primary barrier matting and are designed to work with all the solutions in the Gradus matting range.
A recessed frame is used to help create, finish and protect a recess in the sub-floor that is used to accommodate a primary barrier mat. They are available either mitred or shaped subject to provision of a suitable drawing or template by the customer.
Ramping frames are used to create a 'surface matwell' where a mat is laid directly on top of the floor.
Gradus is able to offer a complete service for the provision of barrier matting systems including product specification and recommended layouts, quotations and full on-site installation and porject management services - click here for details.